An easy to make Italicus cocktail from Steve The Bartender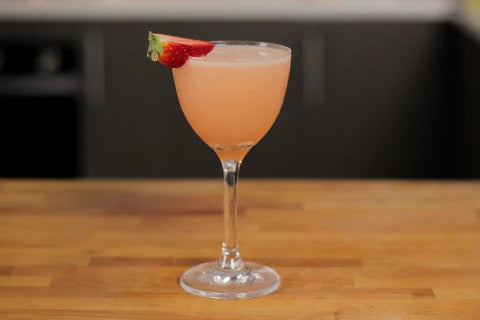 This cocktail (and the lovely image above!) comes to us courtesy of Steve the Bartender, who one day asked himself one of the most urgent questions of our time: how can we make the breakfast martini, but better?
Italicus Rosolio di Bergamotto was the answer.  Read on for this easy to make, impossible to forget delicious little number, which Steve calls The King's Breakfast, after the fact that way back when, Rosolio was the main aperitivo enjoyed by the King of Savoia, the region in Italy that is home to Italicus.
Along with its royal connection, this cocktail features everything you're looking for in a Spring drink: bright, tart, jammy, floral, fresh. Perfect for brunch, and everything beyond brunch, too!
The King's Breakfast
Ingredients
0.75 oz Italicus Rosolio di Bergamotto
0.75 oz gin (see note below)
0.75 oz freshly squeezed lemon juice
1 heaping barspoon of strawberry jam 
Method
Combine all ingredients in a cocktail shaker with ice.  Shake for 12-15 seconds, then strain into a small coupe and garnish with a strawberry.
A note on gin: we'd recommend trying this with both a very traditional London Dry, like Sipsmith, or Bulldog, and also mixing up a version with a more floral, new western style, like Monkey 47 or RIGHT Gin. See which you prefer and let us know!