Cocktail Conversations #1: Mixo Indy & the Ginny Green Giant Cocktail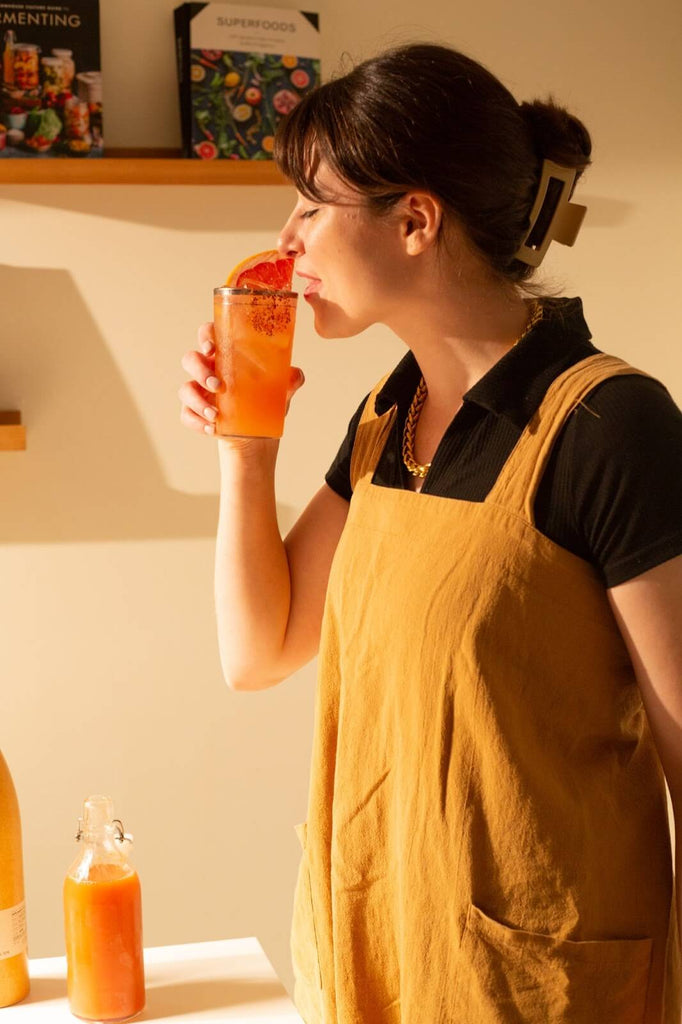 Katie of Mixo Indy caught our eye when we saw the lovely cocktails she was sharing on her Instagram account. Her fun-loving and warm personality shone through in her posts, so obviously she was the perfect first guest for Curiada Cocktail Conversations! Read on to learn about her journey in cocktail-land, how she enjoys freaking out her dinner guests and what her most "out there" cocktail (so far!) is. And of course there's an original Mixo Indy cocktail at the very end that you can easily make at home!
Let's dive right in. Tell us about the Mixo Indy experience -- what do you offer?
Mixo Indy is a cocktail education brand, based out of Indianapolis, IN. We're focused on bringing hands-on experiences and prioritizing an aesthetic experience, which we believe is 50% of what enjoying a cocktail is all about. Our in-home and local collaboration classes are educational, hands on, and tons of fun! In groups of between 6-20 people, we make 2 craft cocktails in a guided mixology lesson with experienced instructors. We learn the "why" behind the techniques so that participants can be confident in their home mixology, and creating their own cocktails. Participants can choose 1 of 5 classes: an approachable seasonal class, a whiskey class, a tiki class, a tequila class, or an all-mocktail class! 

Where did the Mixo Indy journey begin? 
I first started Mixo as a response to a phenomenon that I kept noticing as an amateur mixologist, where I would have friends over and introduce them to new ingredients that I was experimenting with or learning about, and they would consistently respond with "That is SO interesting" followed by the comment "I don't know anything about cocktails." Combine this with an entrepreneurial spirit, and a belief that interests are sparked by hands on experience that boost confidence and - POOF! A hands-on mixology workshop business presented itself. 
These days we coordinate a variety of events, including corporate, virtual, and public events, but there is always an aspect of education incorporated into the presentation.
What is Mixo Indy's approach to cocktails?
Beyond information about tools, techniques, history, and ingredients, we teach from a "formula" or "template" perspective as opposed to the recipe perspective. Of course we provide recipes, but if we also teach the formula that was used to come up with the recipe, it's a much more effective way of learning. Much like cooking, if you understand the formula, you are better able to switch out an ingredient that you didn't like, can't find, or can't have, use an unfamiliar ingredient that you didn't know what to do with, come up with your own cocktails, or just be able to read a menu better, and get something you know you will like! Some of the common formulas that we in the classes use are "The Sour Formula", "The Old Fashioned Formula", "The Spritz Formula", and "The Collins formula."  
Love that way of breaking things down for people! Tell us, what's the most unusual item that you've ever used in a cocktail?
Probably the most "out there" cocktail that I've used in a class was the Celery Spritzer. It was celery infused syrup, curry bitters from Addition Brand, gin, and sake. It was herbaceous, bubbly, a little spicy, savory, and so so interesting. Thankfully everyone at the class seemed to enjoy it, but I won't pretend it wasn't a hard sell! 
I also have some bitters (Bennett Bitters) with an actual scorpion floating in them! I like it for adding spice to my margs, and freaking out my dinner guests. 
When it comes to your taste personally, what are you loving in cocktails these days?
My favorite style of spirit overall would have to be rum. Rum as a category is incredibly versatile, it can go fruity and tart, but it goes perfectly in hot chocolate or with coffee, caramel flavors, in the more "base note" flavor family. Because the definition of rum is so broad: "a spirit distilled from sugar cane", there is a huge variety of products out there that all qualify as "rum" and taste wildly different from one another! And since we don't know all the personal tastes of the people attending Mixo's classes we are often towing the line between pushing people to try something new and different, and creating a cocktail that the vast majority of people will like. Rum appeases the widest cross section of people, while also demonstrating some really cool history, and working well with most other flavors. 
Is there a type of cocktail or a category of spirits that you think deserves more love?
I would love to see more sake cocktails on menus! It can be so interesting in sour style, bubbly, and stirred drinks. It goes well with lots of other spirits and adds a complex dimension to your cocktails. Sake is also reasonably affordable, widely available, and not very well known outside of its traditional contexts. My personal experiments with sake have yielded excellent results, and I can't wait to do even more!
What can you tell us about the local Indianapolis craft scene? Hit us with your best recommendations! After attending a Mixo Indy class, what are some other can't-miss activities?
Indianapolis as a city is exploding with things to do, especially in the food and drink arena, which for someone like me, a culinary thrill seeker, is ideal. I can narrow it down to: cheese making with Tulip Tree Creamery, chocolate tasting with SoChatti, pottery making with Alley Cat Ceramics, or a cooking class at Goose The Market.
Huge thanks to Katie for being our very first Cocktail Conversations Guest!
Does a Mixo Indy cocktail class sound like just the thing? The booking and hosting process is incredibly simple. You just select your date, purchase tickets through the link provided, and Mixo will bring everything but the kitchen sink- literally! That includes tables, linens, ice, tools, glassware, ingredients, decor, even soap to wash up. All you have to do is book and a ready-to-go cocktail experience will arrive at your doorstep. 
For anyone local to Indianapolis (or visiting!), Katie is offering the Curiada audience 15% off an in-home class in the Indianapolis area. Use the code MIXO15.  And if you're not local, Mixo Indy hosts virtual cocktail classes monthly. Visit the events page for more details or to sign up!
Do you know someone we should feature as part of this series? (Maybe it's you?) Tell us! You can submit a recommendation here. 
All images courtesy of Mixo Indy.